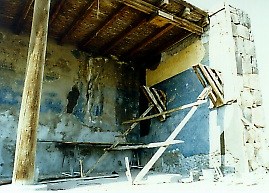 1. Hall of Columns. A reconstruction of the original hall used to greet dignitaries.

2. Argishti Stone. A copy of the stone kept in the museum, called "Erebuni's Passport". The stone announces the building of the citadel "to declare the might of the land of Biaini and hold her enemies in awe".

The Ziggurat ("Ashtarak" in Armenian) or watch tower was situated just beyond the steps leading to the outer courtyard, to the left of the Adana.

3. Alley to Necropolis. A narrow passageway led from the citadel to the necropolis, lined by steep walls. This was a common feature of fortified cities, allowing soldiers to scrutinize those below as they made their way to and from the fortress.

4. Temple to Khaldi. The foundations alone remain from the original structure, which was a long, narrow hall dedicated to the main Urartian deity. Looted when Xerxes and Darius took control of Erebuni, the temple was razed.
5. Adana. The Adana or temple to fire deities, was constructed during the Persian Epoch (ca. 4th-3nd cc BC).
6. Store rooms. Several dozen mammoth vats were partially submerged in the ground in the store room to preserve grain, wine and oil. An example of a vat is in the museum, which held about 250 liters of wine.
7. Palace Entrance. A dedication stone is placed in the wall of the entrance.
8. Palace Courtyard. A reconstruction of the peristyle courtyard is in the museum.
9. Temple to Sushi. Argishti I dedicated the temple to Sushi, which he believed brought him particular favor and power.Notice the dimensions of the temple, it is planometrically identical to the Temple to Mythra at Garni, which was built over an Urartian temple.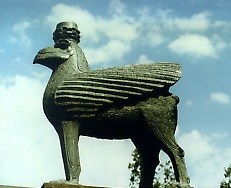 10. Banquet Room. The walls of the room were adorned with frescos showing a ring of lions on a central band. The deep hues are almost impossible to detect due to exposure of the reconstruction to the elements and lack of maintenance.
11. King's Chambers. The chamber walls were also decorated with frescos, and the reconstructed ones you can see have withstood the test of time a little better.
12. Servant's Quarters were immediately adjacent to the palace quarters, with an open courtyard. The palace kitchen and workrooms lined the courtyard.
13. Soldier Quarters were also used by palace officials, and lay on the outer edges of the citadel.