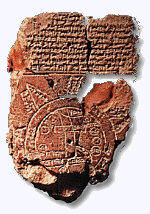 The first mention of the people on the Armenian plateau is in the earliest story we know of, the Sumerian epic poem Gilgamesh (5th-4th millennium bce). In the poem there is mention of a land called 'Arata', where visitors had to 'go by mountain, return by river'.
The first written records to mention the inhabitants of Armenia come from hieroglyphs of the Hittite Kingdom, inscribed from 1388 to 1347 bce. The earliest inscription to be found directly upon Armenian lands, carved in 1114 bce by the Assyrians, describes coalition of kings of the central Armenian region referring to them as 'the people of Nairi'.
Other cultures called the same country Haiasa-Aza, Armenuh, Uruatri, Urartu, Ararta, Alarod, Ararat or Ehrmineh. What is consistent between these names is their essential meanings: all names contain a variant of the words representing 'god', 'river' and 'mountains'. The sound "Ar" represented the sun, which was the greatest deity. Ararat was called by Sumerians "the mountains where the gods live". Assyrians and Babylonians used "Nairi" which meant "the land between the rivers". Haiassa-Aza is much later, divided into Hai-asa-aza, or "land or people of the Hai(k)", incorporating a Hurrian or Hittite "H" sound.
So we have different languages describing the same country, which in itself was inhabited by many tribes, each giving themselves their own names, and if they rose to the status of being recognized by outsiders, the entire country was thus named. Among the tribes in the Armenian plateau were the Haiasa, the Armen and the Urartian. As they intermingled (we're talking thousands of years here), they shared their culture, and language dialects, and by the 5th millennium bce, there is a considerable likeness between tribes on the entire plateau.