The Seljuk period was followed by a brief invasion in 1236-1242 AD by Mongol Tartars. The second golden era for Khachkars and religious art in Armenia begins with the defeat of the Mongols and the establishment of the Orbelian and Proshian Dynasties in the 13th-14th cc.. The accomplishments of Khachkar artists is truly breathtaking in this period, as the simple stone crosses from the 4th century were reinterpreted with amazingly intricate patterns and designstheir reputation as "stone lace" is proved again and again in this period. More than 100,000 Khachkars were created in this period, from which over 40,000 survive in the republic alone. Not a single one is alike, an astonishing achievement.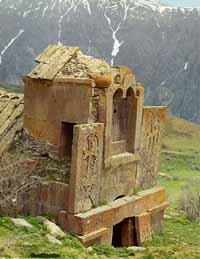 In the 13th-14th cc Khachkars achieved a unified form, represented by a group of Khachkars at Saghmosavank cemetery (13th c., Ashtarak region), a 1291 AD Khachkar in Karmrashen village (Vaik region), and a 1340 AD Khachkar at Alayaz village (Yeghegnadzor region). The floral weave and geometric network, etched deeply into the stone in layered succession, became so delicate it looks like fine filigree or needlework art. The elaborate design lightened the massive weight of the stone, so that one or two blocks seem like feathery lace.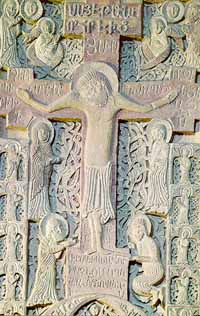 In this period a new form appeared, the Amenaprekich or all-savior Khachkars, distinguished from others by a carving at the top of the crucifixion scene. So much emphasis at that time was placed on the crucifixion and resurrection, it was only natural that people began placing healing qualities to these stones, converting them into shrines. A sort of "Lourdes" network of shrines were constructed throughout the kingdom, and pilgrims filled narrow paths and mountain passes seeking cures and miracles. During a period of devastating natural disasters, they also became endowed with natural powers. In particular, "Tsasman" Khachkars were created to halt drought, hail and earthquakes. Other Khachkars were erected in memory of fallen heroes, there are even some carved for unrequited love. Examples are the 1273 AD Khachkar in the portico of Haghbat monastery, the Dsegh (1281 AD) khachkars carved by the master Vahram, and a 1279 AD Khachkar carved in Ararat region, now housed at Echmiadzin.